Using Niche Sports to Chase Elite Education
Examining my own dissonance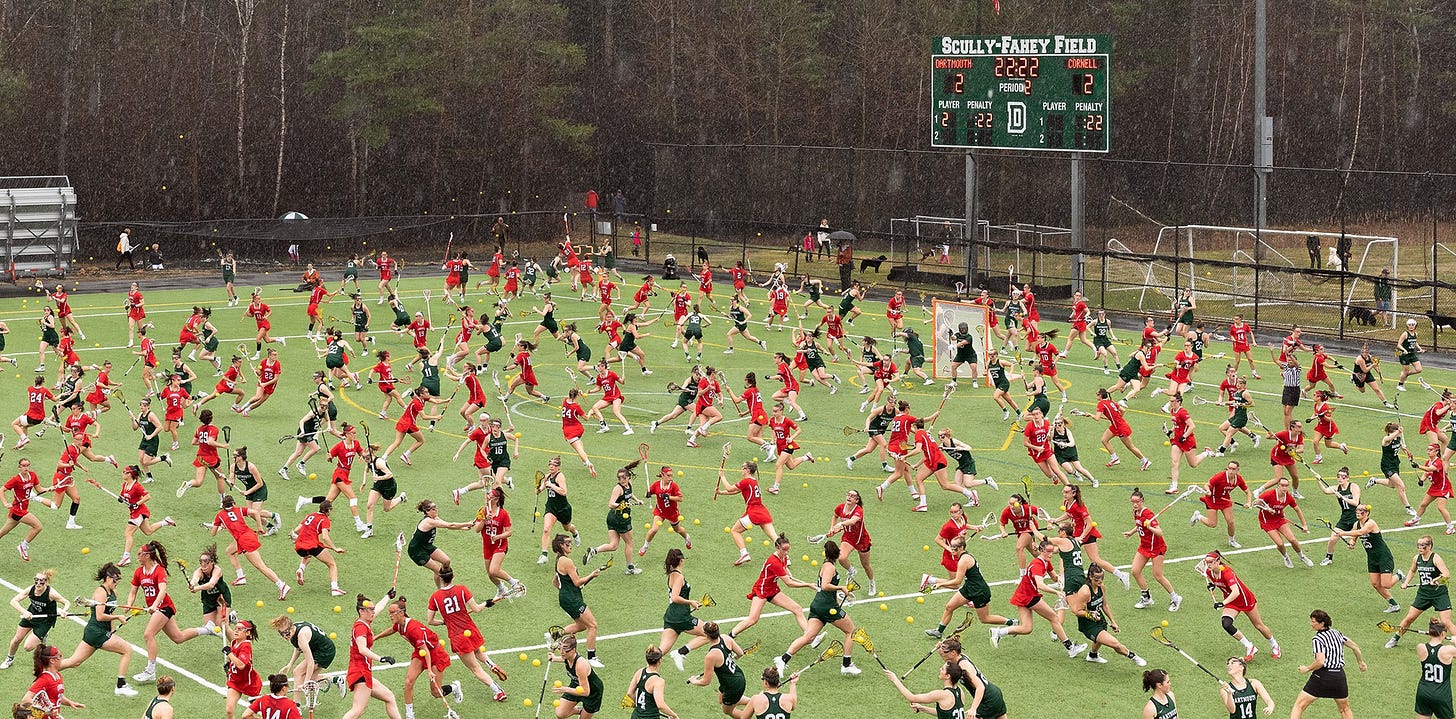 If you have not already done so, please carve out some time to read Ruth S. Barrett's story on parental obsession with using sports to get their children into elite colleges. It appears online here and in the November issue of The Atlantic. Disclaimer: I am quoted in the story, but that is not the reason to read it.
I am really conflicted by this well-written article with its poignant personal stories. Parents have been buying admission spots for their kids for a long time (read Daniel Golden's treatise on the topic, The Price of Admission), so I understand how parents view non-mainstream sports such as squash and fencing as a means to an end - a preferential spot in an elite university. Colleges should be a meritocracy - those who earn spots should be admitted. It should happen that way, but we all know it does not.
Barrett does an excellent job of portraying the desperation parents have of attempting to gain/purchase an advantage for their kids. She contrasts the Varsity Blues narrative, in which parents buy their way into colleges, with the Hoop Dreams narrative, in which athletics can be a ticket for a disadvantaged kid to overcome obstacles.
The Aspen Institute's Project Play initiative has long pushed back against both of these narratives. During its recent (as in last week) 2020 Summit, best-selling author Michael Lewis disclosed his daughter played more than 1,600 travel softball games. Seems crazy, right?
And this is where my own dissonance comes in. My son plays one of these featured sports - lacrosse. We have traveled to Kansas, Oklahoma, Texas, Maryland, and, soon, Florida, for him to play games. Seems crazy, right?
But here's the thing, we are not in one of the "privileged zip codes" Barrett discusses. We are in a state with seven varsity lacrosse programs, so traveling to play seems appropriate. At least that is how I rationalize it.
My son wants to play in college - like, really wants to - but he doesn't necessarily need an Ivy (he is not a "beast" like the kids going to Yale). I also know those coaches might not go out of their way to recruit a kid from Arkansas, so traveling to play (and generate exposure) seems appropriate. At least that is how I rationalize it.
Perspectives like those of Virginia head coach Lars Tiffany give me hope:
"Do I hold the Fairfield County lacrosse player to a higher standard? Of course. You just know he's been coached up. So flash-forward to me watching a [high school] junior on the lacrosse field. The thought is going through my brain that I like his skill set but there's room for growth. But then I think, Wait. He's already had a lot of people working on these things. He's a little tapped out. Maybe I'll take a player from Northern California or Texas. Someone who hasn't been exposed to such elite coaching. Someone whose best lacrosse could be ahead of him. You try to tell yourself not to overanalyze, but you do."
For me, the dissonance ends when I reflect on the "why". Why are we traveling to play lacrosse? Is it because, like the Stamford parents in the article, I want my son to get into a prestigious east coast liberal arts school? While that would be nice, that is not the reason why.
The reason why is attributable to his desire to play college lacrosse. His identity is wrapped up as a high school lacrosse player (he does just fine with academics, too). He puts in the time and effort to work on his game in the yard by himself. He studies the game. This is his goal, his dream. Not that of his parents, though we fully support it.
And, at the end of the day, as a parent, shouldn't you do everything you can to put your children in the best possible position to realize their goals and dreams? I say, yes. At least that is how I rationalize it.